Looking to drive targeted traffic to your wellbeing services and attract the right audiences? Look no further. In this blog post, we will discuss three effective strategies that will not only boost your website traffic but also help you connect with the right audience.
1. Visibility: Ensure that your wellbeing services information are easily discoverable and prominently displayed on your website home page, and regularly review your SEO. Don't make the mistake of hiding your exercise referral and health improvement schemes; this may unintentionally convey the message that these services are not valuable enough to be highlighted. Remember to optimise your content for search engines to ensure maximum visibility. One last thing: health and fitness professionals often underestimate the immense value that health referral schemes bring. Are you curious to learn more? Uncover our recent findings: Referrals=Attendance=Memberships
2. Content Marketing: Creating high-quality and relevant content is crucial for attracting the right audience to your wellbeing services. Start by conducting thorough research on your target audience - consider all personas, for example people who might access to your programmes [referrals], primary & secondary healthcare professionals [referrers] and funder [commissioners].
Identify each of their pain points and interests. Then, develop informative and engaging blog posts, articles, and videos that address these needs. Post content for specific target audiences. If your web platform has the capability, run A and B testing for a short time. By consistently delivering valuable, specific content, you can establish yourself as an authority in your niche and build trust with your audiences. Use social media to gain further reach - there is too much to discuss in the article but we suggest delving into social media experts in their field for more guidance.
3. Tracking and analysis: It goes without saying that once you have implemented any changes, you should start measuring the performance of your wellbeing pages, call to actions (CTA) and specific content. Continue making incremental adjustments based on regular analysis. Don't overlook the importance of monitoring programme enquiries and referrals to assess their impact, and be sure to gather information on how people heard about your services. ReferAll offers an excellent solution for referral webforms. Discover the benefits by exploring our Pathway Solutions.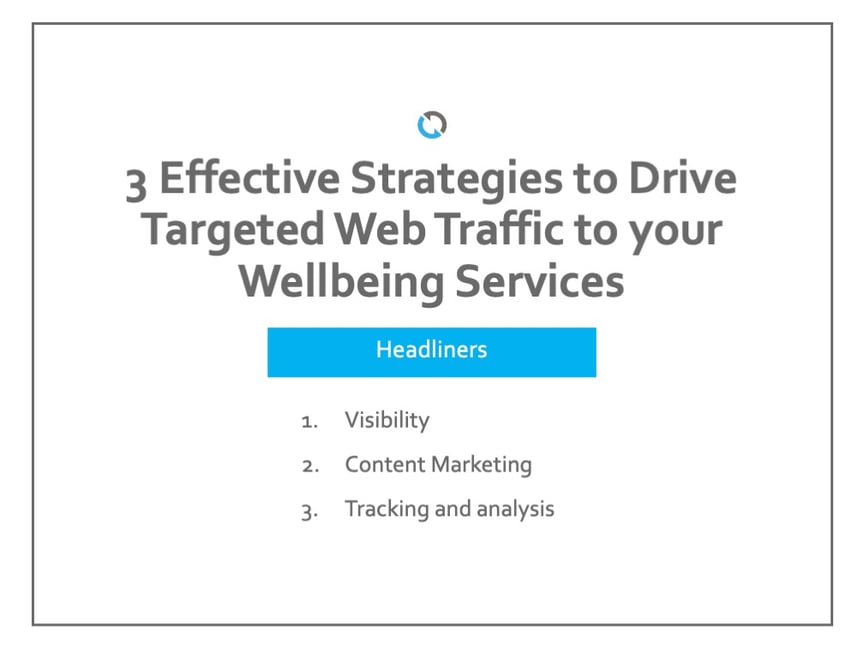 Implement these three strategies consistently and monitor their effectiveness through analytics. Adjust your approach as needed to optimise your results. Remember, driving targeted traffic and attracting the right audience takes time and effort, but with the right strategies, you can achieve long-term success for your wellbeing services.
Feel free to ask us anything by starting a conversation: 📲
or 📧
us. Take action and cross this off your to-do list!
Rach
Rachel Stokes | Marketing Outreach Lead