Embark on a journey into the realm of exercise and health referral schemes with ReferAll's exclusive webinars.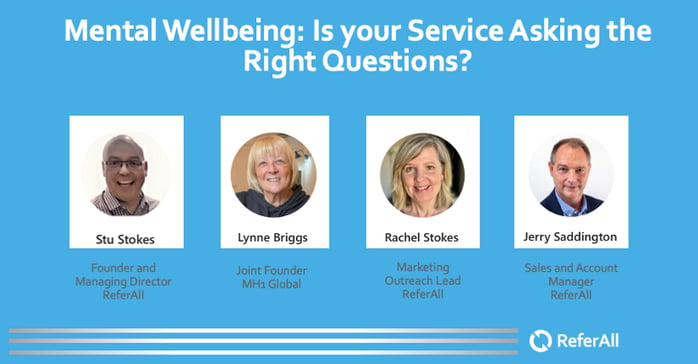 Kicking off September with a burst of insights, ReferAll proudly hosted the 3rd ReferAll Webinar Revelations. In this blog post, we provide you with a summary of the invaluable takeaways from this exciting event.
If you haven't yet joined the ReferAll, here's something extraordinary for you: we offer much more than just software! Embark on a journey of discovery with us and discover the added value being part of our community brings. Our enlightening webinars will pave the way for your success, so get ready to broaden your horizons right here.
The Details:
📅: Wed 06 Sep 2023
🕦: 10:30 - 11:15 BST
🗺️: Online event
👥: Exclusively for ReferAll customers
Mental Wellbeing - Is Your Service Asking the Right Questions?

Introduction:
- Welcome to the third webinar in the Referral Webinar Revelations series, focusing on mental health and wellbeing.
- Key question: Are your services asking the right questions?
- Hosts: Rachel Stokes (Marketing Outreach Lead), Jerry Saddington (Sales and Account Manager), Stu Stokes (Founder and MD of ReferAll).
- Special guest: Lynne Briggs, Co-founder of MH1 Global.
Lynne Briggs' Background:
- Lynne's journey from group exercise instructor to health and fitness management and education.
- Transition into training and working with Fitpro for over 30 years.
- Co-founder of MH1 Global, a platform dedicated to mental health and wellbeing.
- Introduction of the groundbreaking Mental Health Questionnaire (MHQ).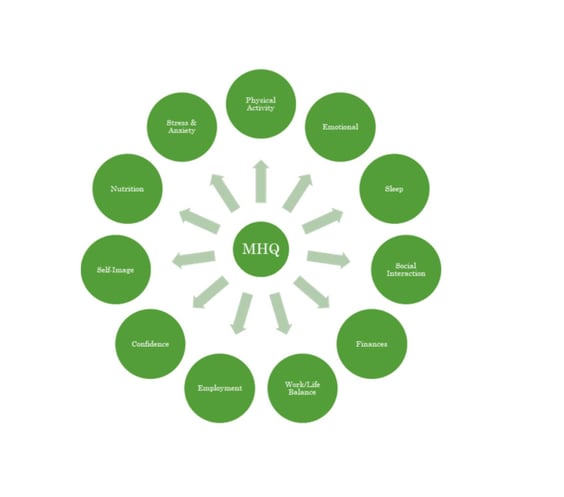 The MHQ and Its Significance:
- The MHQ is a result of a master's degree dissertation in psychology by Paula Litherland (msc).
- An 11-lifestyle factor questionnaire aimed at improving overall wellbeing.
- Provides a holistic approach to physical and mental health.
- Goes beyond simply identifying issues; MH1 trained advisors offer support and resources.
- Potential benefits for companies, staff, and members, including improved staff retention and referrals.

Unique Insights from the MHQ:
- Revealing results from anonymised data so far.
- Surprising findings, such as self-image being a top concern.
- Work-life balance and sleep as common issues.
- The interconnectedness of lifestyle factors.
- Using the MHQ as a conversation starter and an ongoing tool for client improvement.

Partnerships and Real-World Applications:
- Collaboration with colleges, leisure providers and the wider business community.
- Identifying staff members in need of support in tandem with support from your HR team.
- Creating referral relationships for holistic wellness.
- The importance of immediate feedback and conversation.
- The potential for a new career path as a Lifestyle Advisor.

Conclusion:
- The MHQ is a groundbreaking tool for assessing and improving lifestyle factors, leading to improved wellbeing.
- It offers a unique opportunity for the fitness industry and higher education to play a role in holistic health.
- Ongoing use of the MHQ can lead to positive changes in lifestyle factors.
- Collaborations and partnerships are shaping the future of mental wellbeing support.
Until next time, happy planning!
Feel free to start a conversation: 📲
or 📧
us, we're all ears!
Rach
Rachel Stokes | Marketing Outreach Lead