We're excited to announce a new partnership with the leading, NHS-approved, certified medical device (UKCA, CE) and app EXi. In the last 18 months we have seen online exercise provision go from a 'nice to have' to an essential part of every provider's offer.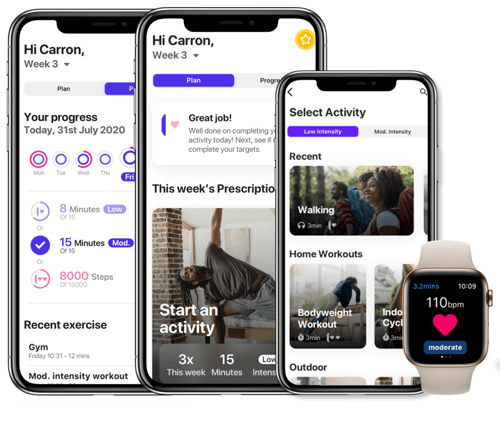 This latest ReferAll integration means our customers will be able to invite their clients to create an EXi membership from within the platform, connecting them to EXi's personalised, digital exercise programmes. The collaboration will mean ReferAll customers can offer an online, digital exercise delivery solution to people on their exercise on referral (EOR) and wellbeing schemes for the first time.
EXi's app has been developed by physiotherapists and is based on the latest medical guidelines. The new partnership allows our customers to seamlessly invite their EOR and wellbeing scheme participants to EXi membership from within the ReferAll platform. Operators will also be able to record patient consent and access streamlined data via ReferAll.
Based on health information entered by the participant, EXi will then set the duration and intensity of the exercise. The app can be used to manage up to 23 long-term health conditions and help those at risk of developing them to become more active.  
Exclusive offer for ReferAll customers
As a result of this partnership integration, our customers can take advantage of an exclusive offer for access to EXi Premium features. ReferAll customers and new customers who register their interest before 31/03/22 are eligible for this promotion.
The effect of Covid-19 means exercise referral capacity will continue to be a real issue in the coming months. Being able to offer EXi alongside face-to-face or remote sessions (delivered via phone or video conferencing) will be a game changer in the fight to tackle rising referral rates and capacity concerns.

Together with us, EXi aims to reduce inequality, increase access to physical activity and ensure cost of care isn't a barrier. Therefore, EXi is making EXi premium complimentary for all our customers for the first three months.

How the integration works
When an exercise referral instructor is speaking to a patient, they will now be able to give the option of using EXi as an exercise solution, used either independently or in conjunction with a traditional gym or leisure centre-based programmes.

Our partnership with EXi will allow our customers to reach out to more patients exactly when they need it most.
"We're excited to offer EXi through ReferAll and believe this is a brilliant opportunity to change how we deliver support with prescribed exercise, allowing professionals to easily provide tailored support to their EOR participants through EXi's personalised exercise prescription," says Grace McNamara, CEO of EXi.
The ReferAll and EXi partnership is set to be a game-changer in the exercise referral space, revolutionising how digital tech and healthcare work together and leading the way for wellbeing schemes of the future ," says Stokes. "Right now, the advantages of having a digital offer are immeasurable, especially in those groups that are hard to reach.
Remember, both first-time and existing ReferAll customers can take advantage of this promotion by registering your interest before 31/03/22. Add your details by registering today!
Reach out to us and explore the new blended approach for your services by calling 0845 465 1052 or