In the second part of this guide, we'll delve deeper into creating a wellbeing service workflow, team buy-in and tips to keep your team on track. We look at how you can maximise your exercise referral or wellbeing service efficiency so that the impact long-term means you can grow your leisure or fitness centre memberships at a quicker pace while optimising resource management.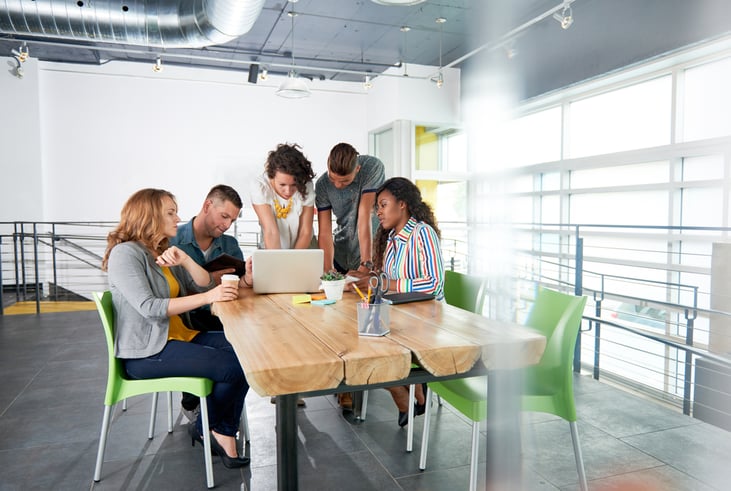 1. How to Identify the Best Workflow Pathway for Your Service
Identifying a clear workflow pathway of tasks for your wellbeing services can be a daunting task. It requires careful consideration of various factors such as customer needs, cost, time frame, and resources. To help you make an informed decision, we will explore the process of defining a workflow tasks pathway and how to make adjustments to reach your business goals.
Start at the End - Key Performance Indicators (KPIs).
If your service's key performance indicators (KPIs) have been agreed upon by commissioners or your organisation's board, this provides a valuable opportunity to outline the necessary steps for data collection by you and your team.
If key milestones have not been agreed upon, collaborate with stakeholders to establish clear outcome reporting goals. This promotes ownership and buy-in, increasing their support and participation in the data collection process. Gather their input and insights through meetings, workshops, or surveys to identify the most relevant and meaningful KPIs for your service or program.
We understand that finding the time to do this can be challenging, especially when you're busy managing your service and team. Utilising online video calls and e-communications can significantly speed up certain parts of the process. Saving time in the long run could ultimately save your services!
Once the outcome reporting goals have been established, it is crucial to define the necessary steps for data collection. We like to think of data simply as information. 'Information' collection includes determining the data sources, methods of data collection (via text SMS, email, calling or lastly postal communications) and frequency of data collection. By outlining these steps, you can gain consistency and accuracy in the data that is collected.
Choose a referral management platform.
Referral management software is an excellent place to start receiving, managing and reporting on your wellbeing service referrals.
For example, ReferAll's CRM style software allows you to securely receive, support and optimise participant outcomes with complete confidence - without a piece of paper in sight.
Additionally, you can create service workflows by creating recurrent tasks that your team do on a daily, weekly and monthly basis. Easily customise task templates, schedule and then watch your workflow do the thinking for you!

The manage tasks area in our productivity solution enables your team to get on with their day and feel confident, knowing they are getting the right things done, at the right time.
In addition to data collection, it is also important to consider data analysis and reporting. Analyse the collected data to derive insights and trends, and then present the findings in a clear and concise manner is what our team at ReferAll are huge fans of - and are happy to help you with!
By providing stakeholders with meaningful and actionable information, you can demonstrate the impact and effectiveness of your service.
2. What are the Best Strategies for Increasing Team Compliance with a Task Management Workflow?
Ensuring team compliance, or 'buy-in' with a workflow pathway is a key factor in the success of any service or programme. To ensure that all tasks are completed on time and to the highest standards, it is important to have an effective strategy in place.
Set clear expectations, provide feedback and praise, and use technology to streamline processes.
For example, ReferAll's powerful digital task manager is fully customisable to your service needs, and helps you increase your productivity - and your teams - to manage your service workflow more efficiently.
With ReferAll, you can easily organise and automate tasks to run from trigger points such as new referral received, number of sessions attended, tasks completed vs. attempts and many more – all reportable against KPI's from ReferAll's Reporting Solution. Progress is trackable in real-time, you can also get insights into how your team is performing and make sure that everyone is on the same page.
*Tip: Follow
. Our August focus 'Embracing a Data-Driven Culture' is where you'll pick up our data-driven team's expert tips, guidance and experience of what works for our customers. When you're ready to take a break from lounging by the pool this August 😉 why not explore
.
With these strategies in place, teams can be more productive and successful while also reducing stress levels.

3. How to Reduce the Risk of Falling Behind in Your Teams Task Management
As an Exercise Referral or Wellbeing Manager, you must ensure that your team's task management is on track. It can be challenging if staff fall behind and tasks accumulate on the dashboard. Ultimately this could contribute to reduced or loss of funding due to missing specific targets. It is important for your team to fully grasp the consequences of keeping service data up-to-date. But how can you to that?
To reduce the risk of tasks building up, you can think of these steps as part of successful team management strategy:
Have a well-defined process in place for managing tasks and tracking progress.

This includes setting clear expectations for each team member, establishing deadlines, and having regular check-ins with each team member to ensure that tasks are being completed on time.

Additionally, it's best practice to document task workflows in order to demonstrate procedures if needed.
By following these tips, you'll be well on your way towards reducing the risk of your team falling behind on 'service essential tasks'.
Begin Managing Workflow Tasks
If you're determined to take your wellbeing services to new heights, this article series is your get started guide. Whilst there are many rules to workflow management, the most important one is: Clear and well-defined key performance indicators (KPIs) are essential for establishing the groundwork of effective workflow management.
And remember, the more you help your staff to understand the why, how and when, the more you'll secure your team's buy-in and equip your team with the tools they need to succeed.